We have secured a primary sponsor for MONSTER FEST 2013. Aerobeez has stepped up and will be donating 2 ARF's of our choice! A 30cc and a 50cc will be available to be won by two lucky pilot's at this years AEROBEEZ MONSTER FEST 2013 event. Alan from Aerobeez will be coming for the event and possibly bring a pilot to demo his products for the crowd.
If you have an opinion on which 30cc and 50cc planes we should choose please let me know here! Go to Aerobeez.com and see the selection!
I like the Slick 540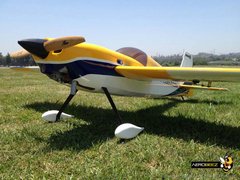 and of course the yak!